Welcome
Modern Monument Works | We Make Monuments
Welcome to Modern Monument Works
Offering Compassionate Support to Families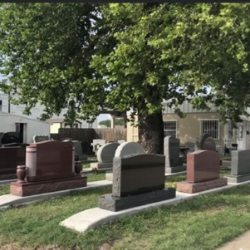 Modern Monuments exists for the service of our community, offering compassionate support in helping families honor their loved ones. We will work with you to ensure your satisfaction in both the custom headstone of your choice and its price. We want to make sure you get what you want at the lowest possible expense. Our expert craftsmen are highly experienced in designing and creating all styles, sizes and shapes of customized headstones and memorials.
At Modern Monuments in Cleburne, Texas we understand firsthand how difficult it can be to make these important decisions. For this reason, we are here to help and serve you in any way we can. We will guide you through every step of the process, ensuring your loved one's legacy is honored respectfully. With so many options, colors and styles to select from, our caring staff will work with you to make sure you find the marker you prefer.
Full Service Monuments / Memorials
We are the Manufacturer - No Middlemen
Your monument is manufactured and installed by a company with complete facilities. Modern Monuments will deliver your memorial, complete in every detail from original design to final erection in the cemetery. From quarry to cemetery, no other company handles a Modern Monument. There are no brokers, middlemen or wholesale manufacturers to deal with.
Modern Monuments is a family owned company that specializes in:
Mausoleums
And other cemetery accessories, including benches and vases
Since 1883, we strive to meet and exceed customer expectations and make sure your loved one receives the memorial they deserve. While there is no way to replace a loved one, you can honor them and display their love by selecting a beautiful grave maker or plaque.



Why Modern Monument Works
High Quality Service at Reasonable Prices
Modern Monuments in Cleburne, Texas has developed a reputation for its elegant designs and the customer satisfaction it has received over the years. We pride ourselves on providing high-quality service at a reasonable price. Our vast online headstone and memorial marker catalog contains photos of headstones and granite color charts to give you a clear idea of what our unique cemetery headstones, monuments and grave markers can look like.

We at Modern Monuments in Cleburne, Texas believe the monument or memorial marker that is placed on your loved ones' grave is an important reflection of their life. Working with any one of our expert team members, we can help translate your ideas and the many different facets of a person's life such as religion, hobbies, fraternal organizations, favorite flower, or beloved pet, (to name just a few), into a gorgeous work of art to mark their final resting place. Contact Modern Monuments and let us help you design your custom memorial monument today.
Johnson County and Surrounding Areas

Our team of dedicated craftsman in Cleburne, Texas can assist you in honoring your loved one regardless of location. Whether it is our first time supporting you or part of any ongoing memorial project, Modern Monument Works has over a century of working with cemeteries to provide quality grave markers, customized granite memorials, headstones, flat grave markers, tombstones, granite signs & plaques, headstones for pets, and individual stone engraving throughout Johnson County, Texas and surrounding areas.
If you are in Cleburne, Joshua, Alvarado, Rio Vista, Bono, Granbury, Mansfield, Crowley, Burleson, Venus and surrounding areas, we are not too far from you. Modern Monument Works is dedicated to serving the unique and personal needs of our clients. Our experienced staff can help you with your decision. They will listen to you, give you options and ideas, and help you create the perfect memorial.
Our Products
Modern Monument Works
I could not be more pleased. I have now purchased 3 headstones from Modern Monument for family members. They have so much compassion for when a person is going through this final step for their love ones and price is very fair.
I would not even think of purchasing anywhere else. Thank you Marianne and Matthew may God bless you both.
I contacted Modern Monument Works to put a final date for my mother on an existing stone and told them I would be there in one week. They said it would take 2-3 weeks to which I agreed. I was pleasantly surprised when I got there one week later the engraving was already completed! Thank you so much MMW!
I absolutely cannot 'sing the praises' of Matthew and Marianne at Modern Monument Works loud enough!!
They were the kindest, most attentive, and extremely patient people. Even in what was one of the saddest moments of our lives, working with them was indeed a joy!
Thank you for all the two of you did to help my family honor our precious Dad.
Marianne with Modern Monument Works completed the restoration of a family member's monument. The before and after photos document her astounding work. The head stone was all but illegible and nearly toppling over. She discovered the foot stone while restoring the head stone. It had fallen over and become buried. She restored it to its original condition and position. Well done MMW!
Choosing a monument for a loved one is an important but very bittersweet time. This was a new experience for me. It was for my parents so it had to be perfect.
Marianne was very compassionate, helpful, and kind. It was just like working with someone who cared as much as we did. Just like family.
I would like thank you for honoring my mothers original contract with the previous owner. Thank you for being so helpful, and understanding. One if the best experiences our family has in a long time. Mourning never stops and it helps tremendously when find people that care and treat you like family. The head stone is truly a work of art.
Most sincerely,
The Warren family
Absolutely a wonderful experience with Modern Monument Works! Matthew & Marianne were super easy to work with and were very flexible to meet our needs. They went the extra mile to help make our solemn experience something special. The monument looks great and obviously done by professionals! Thank you so much!!
Request a Free Consultation
We offer free consultations at Modern Monument Works. Send us a message!
Many families have placed their trust in Modern Monument Works
to provide them with exceptional quality monuments and memorials. Contact us today!